North East Jewish community fades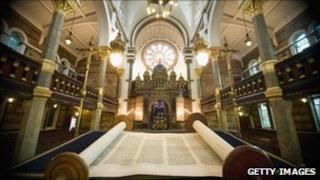 The Jewish community in the north-east of England is shrinking, according to Rabbi Dovid Lewis, who has led the United Hebrew Synagogue in Gosforth since 2004.
Many synagogues have closed across the North East - those that are left have an ageing congregation and few children.
Rabbi Dovid and his wife are about to move to Manchester to take up a position in a much larger and more vibrant congregation.
He said: "We're in our 30s and we've still got 30 or 40 years worth of work left within us and we were looking for a community which is younger.
"The community that we're going to has got an average age of 40, there are 150 primary school children, as opposed to the 10 in Newcastle, it was the next step, that unfortunately we had to take."
Shrinking community
Many synogogues across the North East have closed over the years as many Jews have moved to Manchester and London.
One of the most recent closures was Sunderland's last synagogue on Ryhope Road synagogue in March 2006.
Rabbi Dovid said: "The Jewish community in the North East is shrinking. It wasn't so long ago there were synagogues dotted all around the North East... and the community is slowly but surely contracting."
"There are less than a dozen jews still living in Sunderland. The reason the community shut down was because so many of them saw the writing on the wall that the community was shrinking and left."
"A lot more of the Jewish people are going into businesses such as accountancy or lawyers and they're looking at where those jobs are concentrated which is Manchester and London."
Rabbi Dovid said that Judaism was not fading, it was actually growing, but only in these concentrated areas.