Man faces jail for helping gunman Raoul Moat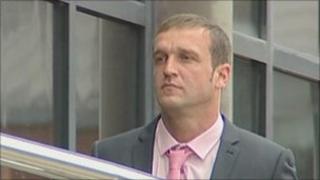 A man faces being jailed after admitting he helped gunman Raoul Moat by hiding evidence.
Scott Raisbeck, 30, removed the van Moat used when he shot his ex-girlfriend and killed her new partner.
Appearing at Newcastle Crown Court, Raisbeck pleaded guilty to perverting the course of justice and handling stolen goods.
He was bailed for pre-sentence reports and will appear again in June.
Mr Justice Coulson said: "It is important for you to understand I will impose a prison sentence on you.
"The pre-sentence report is to get an idea of the appropriate period."
The court heard that Raisbeck hid a stolen white van used by Moat, and removed evidence from it, so the gunman could evade the police.
In March, two other men, Karl Ness and Qhuram Awan, were jailed for life for helping Moat in July.
During his rampage, Moat's former girlfriend Samantha Stobbart was seriously injured and karate instructor Chris Brown was killed.
Moat also shot Pc David Rathband in the face, leaving him blind.
Following the shootings Moat went on the run for a week, sparking a major manhunt, and then shot himself in Rothbury, Northumberland.