Newcastle's Alan Shearer waxwork unveiled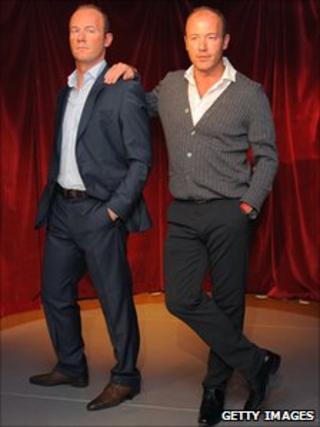 A waxwork of former England and Newcastle United striker Alan Shearer has been unveiled.
The figure, which took four months to make, is on show at Madame Tussauds in Blackpool.
Shearer's figure will stand in the "locker room" with models of David Beckham and Wayne Rooney.
Alan Shearer said: "I think they've done such a great job, it's scary. It's weird looking at yourself and thinking how incredibly alike it is."
The process begins with a sitting in which the pose and expression are discussed so that as many details as possible can be included in the model.
Experts assessed Shearer's hair, eyes and skin colour, studied pictures and watched videos to get to know a little bit more about his character.
Shearer, 40, said: "They take a million different measurements of everything and then do the cast which takes a few hours but we did it all in a day in London.
"You'd be surprised by the detail that goes in to it and now seeing it this close up you can see how careful they've been."
Blackpool's Madame Tussauds is the first in the UK outside of London.