Man dies in Gateshead house fire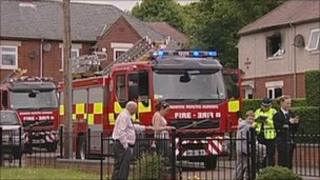 A man has been killed in a house fire on Tyneside.
Firefighters were called to Hadrian Place in Carr Hill, Gateshead, amid reports that people were trapped inside the property.
Crews had difficulty gaining access to the property, and had to use an extension ladder to reach the man's body which was in a bedroom.
No-one else was found at the property and an investigation into its cause is under way.