Gateshead hospital trust pays for 'unnecessary' advert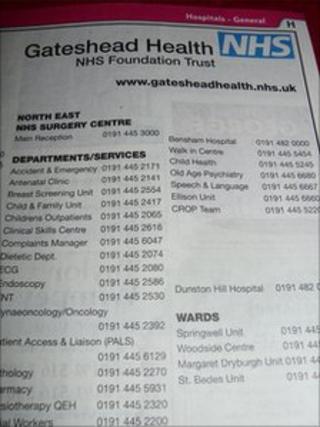 The NHS trust which runs hospitals in Gateshead is reviewing its decision to take out full-page adverts which cost up to £6,000.
Gateshead Health NHS Foundation Trust paid for adverts in BT phone books for Gateshead and South Tyneside and adjacent Newcastle and North Tyneside.
A trust spokesman said it was an effective method of reaching patients.
John McDade, Unison union regional organiser, said: "I think that money could be better spent."
The standard rate for a full-page phone book advert in the area is £6,000, but BT would not confirm whether that was the actual price paid by the trust.
A spokesperson said deals were available and the trust was likely to have paid less than the standard rate.
The trust has not confirmed that it paid any less.
Mr McDade said: "I'm sure if patients were asked... would you rather see six grand going on this or six grand being spent on improving facilities within the hospital for you, they would opt for the facilities."
Patient choice
A spokesperson for Gateshead Health NHS Foundation Trust said: "The trust has advertised in both the Gateshead and Newcastle BT Phone Books for many years as, due to patient choice, we have patients located in both Gateshead, Newcastle and surrounding areas.
"We find this method of reaching the majority of our patients to be highly effective, particularly for those who are familiar with this process and who do not have easy access to technology."
Mr McDade said: "I am actually surprised that they are advertising in that phone book.
"Certainly myself, friends, family, never refer to a phone book these days, we get our information from other sources."
Hospitals in Newcastle and North Tyneside have not paid for advertising in the phone book and have only the free, one-line entry.
Mr McDade added: "The unfortunate thing is that the government's plans to introduce greater competition into health will probably result in more trusts advertising their services like this... which we don't see as being necessary."