'Big increase' in Northumberland sheep rustling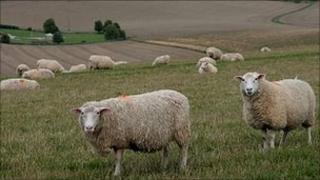 Police in Northumberland are stepping up patrols after a big increase in sheep rustling.
The value of animals stolen has gone up from £9,000 in 2008 to £39,000 last year, Northumbria Police said.
The Bellingham area has seen the largest number of livestock thefts, but police have also investigated thefts in Langley, Slaggyford and Haydon Bridge.
Officers working with animal health inspectors said they would increase night patrols and vehicle checks.
Insp Dave Thornhill, of Northumbria Police, said: "Thefts of animals are difficult crimes to solve because there is often very little intelligence as to who the criminals are or where the stolen animals may have been taken.
"Also the timeframes that the thefts could have taken place during can be up to months at a time.
"The emphasis has to be on the prevention of this type of crime. We stand a much greater chance of tackling rural thieves if we can catch them in the act.
"But to do this we need the help of residents, farmers and landowners."
The rising price of meat and the effects of the recession have been blamed in part for an increase in sheep rustling.
Insurer NFU Mutual said that in some cases gangs had gathered up to 100 animals and used lorries to transport sheep away to be sold illegally.