Firefighters put out huge scrapyard blaze in Newcastle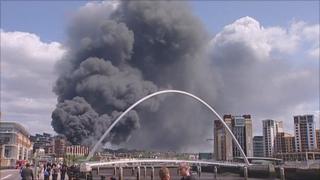 An investigation has begun into the cause of a massive scrapyard fire in Newcastle, which produced a plume of smoke visible for about 30 miles.
At its height about 70 firefighters were at the scene of the blaze in the Byker area of the city, which started at lunchtime on Thursday.
One person received minor injuries in the fire. Smoke was reported to be visible from Redcar on Teesside.
Fire crews pulled out of the area early on Friday after putting out the blaze.
Surrounding roads which had been closed for most of Thursday were also being reopened to traffic.
Fire crews used water from the River Tyne in the lengthy operation at Shepherd's scrapyard in Albion Row to bring the blaze under control.
One man was taken to hospital suffering from the effects of smoke inhalation.
People living nearby were warned to stay inside because of thick smoke, although it was not thought to be toxic.
The yard remains sealed off to allow forensic examinations to begin.
A spokesman for Tyne and Wear Fire Brigade said: "We have had to deal with a number of different hazardous materials, including oil and rubber and plastics.
"In addition we have had to take into account environmental issues most importantly the smoke and the water run-off as we are so close to the River Tyne."
He said firefighters had used equipment which could pump out 8,000 litres of water a minute over a distance of 3km.
At the height of the blaze there were traffic delays along Newcastle Quayside, City Road, Shields Road and Byker Bridge.