Pigeons killed in South Shields allotment fire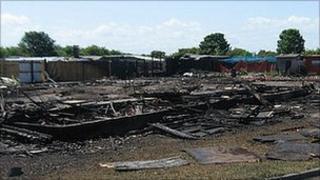 Hundreds of pigeons were killed when fire swept across a set of allotments on South Tyneside.
About 40 firefighters and seven appliances tackled the fire at Holder House allotments, Whiteleas, near South Shields on Monday evening.
It resulted in the destruction of 30 sheds and their contents, and the death of about 1,000 pigeons.
It is believed the fire, which affected an area of 328ft (100m) by 164ft (50m), was started accidentally.