Lourdes pilgrimage attracts Washington young helpers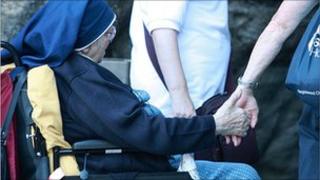 Two Washington teenagers will be among the thousands visiting the Roman Catholic pilgrimage site of Lourdes in July.
Up to five million pilgrims visit the town every year and many claim to have been cured of illness and disease by its sacred springs.
Amy Groark and Clare Knowles are part of a group organised by the Diocese of Hexham and Newcastle.
They will act as helpers and companions to pilgrims who are infirm or disabled.
They'll be among the hundreds of young people from the diocese who visit each year.
Of previous visits Claire said: "We helped them [the pilgrims], we wheeled them down to the churches, helped them get out of bed on the morning, helped them to be fed.
"We communicate with them as well, spend a lot of time with them, they always have what, well, we've perceived as they have quite isolated lives outside, at home.
"They become the majority when they go to Lourdes and we are second to them so it's just about catering for their needs."
Many of the young people who help in this way find the experience so rewarding they return again and again.
Claire said: "Absolutely loved it. We were told before we went we would catch the bug of going back and back to Lourdes and I definitely did.
"It's wonderful."
Personal discovery
Amy described the experience as humbling, helping people who don't usually have this level of companionship.
She said: "I don't think anyone goes expecting to be healed. I think it's just the sense of community they get from it and they have so many different events and prayers.
"Everyone's buzzing around so I think it's just the vibe they get from the place is just amazing."
For Claire the experience was also one of personal discovery, of finding her faith.
She said: "I can remember feeling really hungry in the line to the grotto and, to be honest, at that time it was the last thing I really wanted to do.
"When I actually got there and had my hand on the wall every negative feeling I had left and I think that's something that will always stay with us.
"When you walk through the grotto it's kind of tradition that everybody has their left hand on the wall as they walk round in silence and it's a very powerful and enlightening experience, it really chokes you."
Amy agreed: "Everyone's in silence and you're in the middle of this buzzing village and then there's just this one little spot where you're standing with your hands on this wall and just walking around in silence.
"It's pretty surreal really."