BBC Introducing: Cauls from Newcastle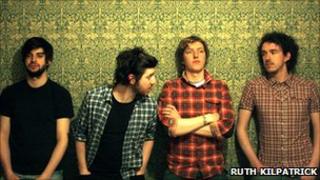 Cauls from Newcastle have been together just under two years but, in their short career, they have taken the north-east of England music scene by storm.
Influenced by everything from jazz to minimal electronica, the likes of At the Drive-In, Owls and Tears for Fears have inspired their own musical sound.
This year they have already played Evolution Emerging and are set to play a series of gigs throughout the summer.
They are also releasing a series of online and CD singles later in the year.
The four piece band is made up of Michael Marwood (vocals), Chris McManus (drums), Andrew McCaffery (bass) and Graham Morris (guitar).
Bassist Andrew, said: "I think music has always been a part of all of our lives and is very important to each of us. The band is important to us as it's as much like four friends getting together and playing music more than anything else.
"I think as a band we're still developing our sound and I feel like we've still got countless avenues to explore. I don't think we've scratched the surface of using Michael's voice or what we can create yet."
Great atmosphere
In May, Cauls played a gig at Evolution Emerging, which they describe as their best gig to date.
Drummer Chris, said: "The highlight of what we have done so far was being asked to play the Evolution Emerging Festival. It feels quite rewarding to get asked to do things like that after putting a lot of effort in practice in a cramped, dingy room.
"It was probably the best gig we've been part of so far. Great atmosphere and playing outside under the bridge was an experience too.
"The venue was packed out and the feel amongst the crowd was really great. I think this really shows that the Newcastle music scene for emerging artists is better than ever and we're really proud to be part of it."
Cauls are playing several gigs throughout the summer, including the Leave Me Here Festival in County Durham.
They are also releasing the first of three two-track CDs on July 15 on bandcamp and at a gig at the Head of Steam in Newcastle.
For more information about Cauls, visit their Facebook page.