BBC Introducing: In Oceans from Newcastle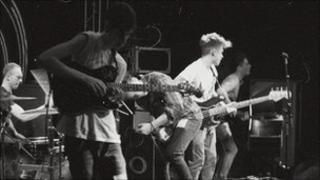 In Oceans from Newcastle have only been together for just over a year but they have already played in some of the North East's biggest festivals.
Influenced by bands like The Dillinger Escape Plan, Foals and The Mars Volta, the five-piece rock band met each other in college.
Since the band formed, they have played Evolution Emerging and were chosen to open the Rock Sound Exposure Tour at the O2 Academy in Newcastle.
Made up of Matthew A Cooper (vocals), Paul A Hogg (bass), John Aitken (drums), Carl Bonas (guitar) and Kye Walker (guitar), the band all have different music tastes which influences their own sound.
Matt said: "We all have broad personal music tastes from each other which we try to incorporate in our music, so we're never limiting ourselves to sound like certain bands in particular.
"But in all seriousness it mainly comes down to curries and dancing."
Positive feedback
In Oceans had a great start to their career receiving 8/10 in Rock Sound magazine for their first release.
Matt said: "We didn't expect to receive this much reception from our first EP, we're all grateful for all the positive feedback and support we've been getting and hopefully it will continue with our next release."
Since their first EP, they have played at the Rock Sound Exposure Tour at the O2 Academy in Newcastle and at Evolution Emerging.
Matt said: "We recently played this year's Evo Emerging which was probably our favourite show to date.
"The line-up was a pretty big mix of bands of all different genres and the crowd was filled with different age groups, so it took us out of comfort zone a bit which was both fun and challenging at the same time.
"It's rewarding to get positive feedback from all different types of people who you wouldn't expect to get to it from."
The band are now writing new material and hoping to widen their fan base by extending their gigs outside of Newcastle.
To find out more about In Oceans visit their Facebook page.