Aircraft makes emergency landing in Seaton Sluice field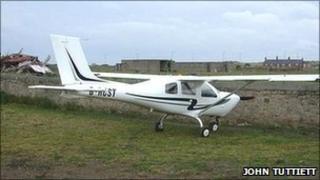 A pilot was forced to make an emergency landing in a field after his plane's engine cut out over the North Sea.
The light aircraft experienced difficulties while travelling from Eshott, in Northumberland, to Norfolk on Sunday evening.
Pilot Gary Cotterell, who also built the plane, glided down to a field next to Old Hartley, near Seaton Sluice.
Mr Cotterell, who had no passengers, is working with police to arrange recovery of the aircraft.
Smoke in cockpit
He said: "I hadn't long got airborne out of Eshott, coming over the Blyth windfarms when it lost all its oil pressure, smoke came in the cockpit."
He said he was flying at about 1,000ft (305m) when he started having problems and it meant he had seconds to make a decision about what to do.
"If you are coming down you have just got to try and choose the best option," he said.
Mr Cotterell said he was pleased with the way the plane had performed.
He said: "You're taught to do it, you practise it regularly and hope it never happens."