Judge Beatrice Bolton questioned over dog biting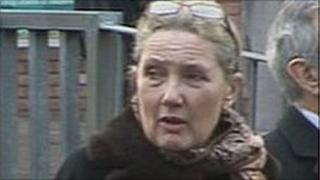 A crown court judge has been arrested after a man reported that he had been bitten by a dog.
Beatrice Bolton, 57, was later bailed following the alleged incident near Rothbury in Northumberland.
Northumbria Police said inquiries were ongoing and two dogs had been removed "to assure public safety".
In December, Judge Bolton swore and stormed out of court when convicted of failing to keep her German shepherd under control. She was fined £2,500.
Magistrates in Carlisle heard that her neighbour's son had been attacked as he sunbathed in the shared garden.
Since her conviction, she has not sat at Newcastle Crown Court.
In April, the Royal Mail suspended deliveries to her home and those of two neighbours in Whitton, near Rothbury, after a postman was treated for a bite to his leg.
The Crown Prosecution Service is deciding whether any charges should be brought.
In relation to the most recent incident, a Northumbria Police spokeswoman said: "On 1 June, police received a report that a 22-year-old man had been bitten in the leg by a dog while walking in the Whitton Bank area of Rothbury.
"Inquiries are ongoing and police have arrested a 57-year-old woman in connection with the incident. She has since been bailed.
"Police have taken action to assure public safety and these dogs have been removed."