North East heroes commemorated through artwork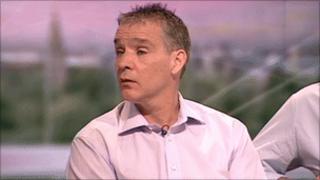 Some of the region's most loved and respected heroes are to be commemorated in a special piece of art.
Life-sized images of local heroes Pc David Rathband, Sir Daniel Gooch and dog breed the Bedlington Terrier, will form part of a 'Portrait Bench' along new pedestrian and cycle routes across Bedlington and Blyth.
The steel artwork is part of an initiative by charity Sustrans to try to get people to make the most of their days out on walks and cycles.
About 80 benches which feature steel artwork are being installed throughout the UK as part of the introduction of the new routes.
Sustrans director Katy Hallett, said: "It's great that local people have chosen their Portrait Bench characters, representing a real mix of people who mean so much to their local community.
"We can't wait to see the bench installed and see it really become a part of the landscape. Sustrans supports public art that local people can see and enjoy every day and the Portrait Bench is a great example of how our everyday journeys can be made attractive and interesting."
'Tragic death'
Guardsman for the Coldstream Guards, Michael Sweeney from Blyth, who lost his life in Afghanistan in 2010, will also be remembered as part of the artwork.
Lt Col Toby Gray, commanding officer, 1st Battalion Coldstream Guards, said: "He was simply a super bloke. Michael was selfless amongst his friends, dedicated to his duty and utterly professional at all times.
"His self-effacing humour and generous nature were the hallmarks of his service in the regiment and values by which he lived his life. He improved the lives of all he met.
"His tragic and untimely death has robbed us of one of the brightest young Guardsmen in the regiment."
Bedlington-born Mary Weightman MBE, Dr John Brown MBE and national treasure Stan Laurel from Cumbria, will also feature on the bench.
Ms Weightman is well known in Bedlington for her charity work for sick animals and Dr Brown was commemorated for his selfless help towards injured miners during emergencies.
Sustrans say it is one of the largest commissioners of public art in the UK with more than 2,000 pieces of original artwork along 13,000 miles of the National Cycle Network.
The bench is to be installed at the end of the summer with a special ceremony.