Kielder Forest peregrine falcons at risk from poachers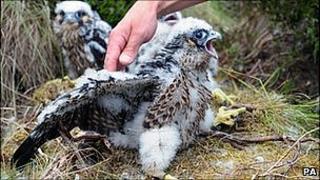 Wildlife experts fear rare peregrine falcon chicks in Northumberland are at risk because of poaching and recent stormy weather.
Ornithologists, who are monitoring 11 nests in Kielder Forest's 155,000 acres, have now begun ringing chicks.
While numbers have risen markedly over the past 15 years, Forestry Commission staff are concerned at evidence of poachers raiding nests for eggs.
Some chick also died during recent storms because of a lack of food.
Gales and lashing rain made it almost impossible for adults to hunt for food and some famished newly-hatched peregrine chicks died.
Forestry Commission ornithologist Martin Davison, said: "The bad weather couldn't have come at a worse time.
'Desperate levels'
"Young chicks have no body fat reserves and so need feeding soon after birth. One of the peregrine nests I'm monitoring has been reduced from three chicks to just one."
Mr Davison said he had also seen evidence that at least three nests had been raided for their eggs or chicks.
He said: "Back in the 1980s half of all peregrine nests in the county were raided by criminals searching for eggs or young birds.
"We are certainly not back to those desperate levels and the birds' revival has been encouraging, but we can't be complacent."
Those responsible for nest thefts face hefty fines or imprisonment.
Peregrines are one of the swiftest birds in the world, swooping on their prey at speeds of more than 110 mph.
They often nest on rocky ledges to protect their brood from predators.