BBC Introducing: Shift-Static from Newcastle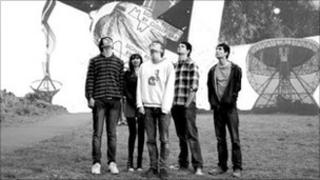 Shift-Static from Newcastle started off as just a couple of friends playing music for fun in their bedrooms.
Now the five-piece band are playing some of the best venues and festivals in the north-east of England.
This year they have already played gigs at The Sage Gateshead, Evolution Emerging and Sunderland's Fringe Festival.
The band are now mixing a new EP which will be available for download later in the year.
Made up of Laura Smith (vocals), Gordon Bruce (guitar and kaoss pad), Joe Barton (bass), Charlie Bayley (drums and samplers) and William Tasker (guitar and psychedelic spring), the band have only been together two years.
Guitarist Gordon, said: "Recently we've been listening to a lot of bass music like the hyperdub stuff which is just incredible, it inspires you to keep trying to produce beats that are out of the box and incorporate all sorts of weird sounds.
"One guy said we sounded like the inside of the Large Hadron Collider after a gig, which was by far the best and most obscure comparison we've had."
'Exhilarating'
Being a group of friends seems to be the secret behind their success, learning as they develop their sound and having fun along the way.
Gordon said: "I've learned so much from so many people within the band and within the Newcastle music scene, like how to co-ordinate a live show to make it more of a spectacle, and most importantly how to make things as loud as possible.
"I guess it's also important to me when people come up after the gigs and say that they were spaced out or blown away or something, because it feels great to have achieved the intended effect.
"Just playing with a bunch of friends on a stage is the most exhilarating it gets for me to be honest!"
For more information on Shift-Static, visit their Facebook page.