Suspected brothels raided in Sunderland and Newcastle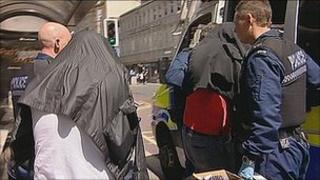 Police have arrested five people after raids on suspected brothels operating in Newcastle and Sunderland.
Police and UK Border Agency staff raided the Chinese Medical Centre in Pilgrim Street, Newcastle, and an address in Foyle Street, Sunderland.
Two men and three women, all of Chinese origin, were arrested on suspicion of sex trafficking offences.
Two women found at the Newcastle premises are being treated as victims and have not been arrested.
A UK Border Agency spokesman said: "Two men aged 39 and 63 and two women aged 28 and 39 were arrested following the raids at the premises in Newcastle.
"A 23-year-old woman was arrested following the raid in Sunderland.
"The two women treated as victims are believed to be of Chinese origin.
"Those arrested remain in police custody and will be questioned throughout the rest of the day."