Jackie Milburn locomotive pulls into Northumberland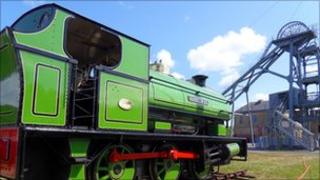 A locomotive named after local football legend Jackie Milburn is making a special visit to Northumberland.
The recently resorted Jackie Milburn steam locomotive is pulling into the annual Northumberland Miners' Picnic at Woodhorn, Ashington, this weekend.
Originally named the Ashington No.5, it was used from 1939 to 1969 at Ashington Coal Company.
It has taken four years and 4,678 hours of work to restore it to its former glory.
The restoration was made possible due to public donations of more than £38,000 and £100,000 in grants and funds.
'Coming home'
Volunteers from the North Tyneside Steam Railway Association and staff at Tyne & Wear Archive and Museums completed the restoration.
Afterwards, it was officially renamed Jackie Milburn in honour of the local footballing legend.
He worked at Ashington Colliery as a fitter before going on to play for Newcastle United and England.
Jackie Milburn's son, Jack Milburn, said: "It's absolutely brilliant, the hours that everybody has put in is fantastic. Over 4,600 hours just to get it right, it's absolutely fabulous.
"It's an honour, it started work just a year before he did at the pit. It was 1939 when the train first started and he came along at just 16 years old in 1940 when he first started working here.
"The chances are they've passed each other many many times I would think."
Keith Merrin, Woodhorn's director, said: "It is coming home and it's fantastic that we've been able to bring it to Woodhorn so that local people can come and see it.
"It should be a fantastic day for everyone. It is certainly adding something very special to our traditional event. A piece of local heritage is coming home - for a short while at least."
The Northumberland Miners' Picnic at Woodhorn includes traditional family favourites such as folk music, a craft fair, hat-making demonstrations and Morris dancing.
The picnic has been visited by many famous faces throughout the years, including politicians Tony Blair, Neil Kinnock, Tony Benn, and former president of the National Union of Mineworkers, Arthur Scargill.
The Jackie Milburn locomotive can usually be seen at Stephenson Railway Museum in North Shields.
It will be at Woodhorn from Thursday 9 June to Sunday 12 June.