South Tyneside Council cautioned over Twitter action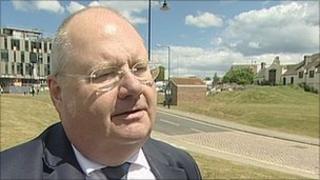 Communities Secretary Eric Pickles has said a council was unwise to use public money to try to unmask a blogger behind allegedly libellous comments.
South Tyneside Council went to a US court to force Twitter to release information which may identify a user behind a blog called "Mr Monkey".
Mr Pickles said he was "not entirely comfortable" with the legal action.
The council said the £75,000 cost was "proportionate" and necessary to protect councillors and staff.
Mr Pickles, who was in South Tyneside to open a new call centre, said: "I think the council has to be very careful about this kind of thing.
"You cannot libel a council. I am not entirely comfortable that public money has been used in this way.
"I want to see how it pans out, but I'm not sure it was the wisest thing to do."
South Tyneside Council leader Iain Malcolm said: "I am convinced that what the officers have done is proportionate.
"This is not about whistle blowing. This is about someone writing filth, lies and vile malicious gossip, with the sole intention of harassment of individuals.
"I think the response from my officers in trying to unmask this person should be supported."
The Mr Monkey blog made a number of accusations against Mr Malcolm, as well as David Potts, the former Conservative leader who now serves as an independent councillor, Labour councillor Anne Walsh, and Rick O'Farrell, the council's head of enterprise and regeneration.
They are all named on papers delivered by the council's lawyers to the Superior Court of California.
Council lawyers and technical experts are currently examining the data released by Twitter following the hearing in California last month.