Clipper De Tukker runs aground on sandbank off Amble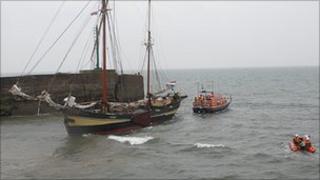 Lifeboat crews were called to free a 100-year-old clipper which became stranded on sandbanks off the Northumberland coast.
The 131ft (40m) Dutch-registered De Tukker was attempting to enter Amble harbour on Sunday night when the incident happened.
No-one was reported injured, but it took two RNLI vessels to free the grounded youth training ship.
An RNLI spokesman said it appeared the De Tukker had miscalculated the tide.
The spokesman said: "Both of Amble's RNLI lifeboats were requested to launch last night by HM Coastguard after De Tukker miscalculated the tide and grounded at the harbour entrance.
"She had tried to enter the harbour at low tide and immediately came to rest on a sandbank.
"Due to the considerable size of the vessel, which created a significant obstacle and the rising wind which would create a swell, it was decided to tow De Tukker off the sandbank and out to deeper water until the tide had risen and she could re-enter the harbour safely."
The De Tukker, which is used a training vessel for young people aged between 15 and 23, did not suffer any major damage and is to due to remain in Amble for several days.