Stanhope Ford crossing safety fears prompt inquiry call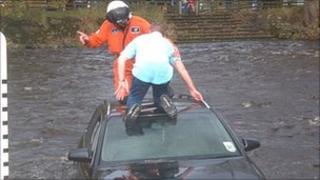 A public inquiry is being sought into whether a County Durham river crossing at the centre of safety fears should be permanently closed.
Traffic was banned from using Stanhope Ford, in 2008, after an increase in the number of rescues from vehicles which had become stranded or swept away.
Durham County Council wants to keep the crossing closed, but has received a number of objections.
A public inquiry is now being sought so a final decision can be made.
Over the past 10 years, 23 rescues operations have been carried out at the ford.
Proposals to keep the crossing closed have been supported by police, fire and ambulance services as well as the Environment Agency.
'Appalling conditions'
But 21 objections have been lodged, including one from the local parish council.
Durham County Council's cabinet member for the environment, Bob Young, said: "The safety record of Stanhope Ford is clearly a cause for some considerable concern, both by ourselves and the emergency services.
"We believe that motorists who have persisted in attempting to cross the ford during appalling conditions have repeatedly put their lives and the lives of those people trying to save them, at risk."
Head of technical services, Steve Keetley, added: "As things stand the ford has been closed to traffic for three years and we need to bring this matter to a conclusion.
"Taking this to a public inquiry will ensure everyone gets the chance to have their say before a decision is made."
County councillors will be asked to formally seek the inquiry later.