Hexham girl Orla comes top with Captain Iron Ears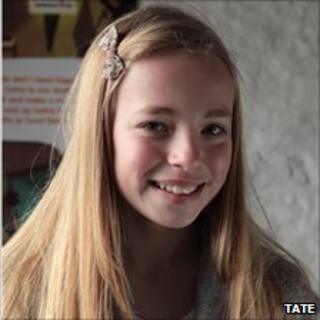 A character drawn by a girl from Northumberland is to star in an animated film created by the Tate Movie Project.
Orla Bush from Hexham, Northumberland, entered an online competition to get her character Captain Iron Ears, featured in the film.
Beating off thousands of entries, her character was chosen for a lead role in The Itch of the Golden Nit.
Twelve-year-old Orla's character will be voiced by comedian Vic Reeves.
The Tate Movie Project is a half-hour animation made by and for children, created using thousands of drawings, sound effects and story ideas by children across the UK.
Drawings were submitted by children aged between five and 13. The site has received more than 500,000 hits since it went live in July 2010.
The Itch of the Golden Nit follows the story of 11-year-old hero Beanie on his mission to save his parents from Evil Stella and to return the Golden Nit to its rightful place at the heart of the sun, thereby saving the universe.
Orla said: "I saw the launch of the Tate Movie Project on Blue Peter and I have been on the website and sending in drawings almost every day since.
"I couldn't believe that one of my drawings had been chosen as a main character. I never thought something like this could happen.
"It was incredible when I first saw the animated Captain Iron Ears, I was so happy and totally speechless. I think it's great that Vic Reeves comes from the North East where I live."
Other celebrities voicing the children's characters include David Walliams, Miranda Hart, Catherine Tate and Rik Mayall.
North East youth music group Folkestra will also provide some of the music for the film, including a sea shanty sung by Captain Iron Ears.
The children will attend a red carpet premiere for the film in Leicester Square on 29 June.
The Itch of the Golden Nit can be seen at the Baltic Centre for Contemporary Art on 14 July.