Skis and sex toys among rubbish left by Durham students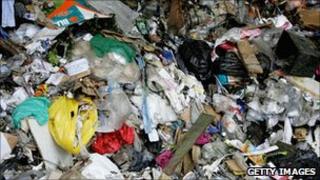 More than 30 tonnes of belongings discarded by Durham students last year avoided landfill because of a university scheme to reuse and recycle.
A fur coat, skis, sex toys and the front end of a fancy dress horse are among the many items left behind by students at the beginning of the summer holidays.
The university has been collecting abandoned property from halls of residence for six years in order to reduce the amount going to landfill.
The Green Move Out scheme runs again next week with the university collecting unwanted items ranging from books and CDs to furniture and bicycles.
It is the second year that students living in private accommodation have been included in the scheme.
Michelle Crawford, the university's environment bursar, said the amount of rubbish left by departing students was increasing.
"Durham City is quite a small location with quite a high population of students and a small amount of residents.
"So, when the students leave the residents are left with whatever's left outside until the council can come round and move the items."
She said residents were delighted when the scheme was extended into the city with help from Durham County Council.
Collected items can be taken for free at an end-of-term swap shop.
What is left is donated to charity or sold at the beginning of term when new students pay what they can afford.
Each year the Green Move Out team fill two or three 20ft containers with discarded belongings - some of them very surprising.
"One was a fur coat, which was left by a guy. And also the front end of a fancy dress horse. We're hoping to find the back end this year," said Ms Crawford.