Newcastle climbers take on Three Peaks Challenge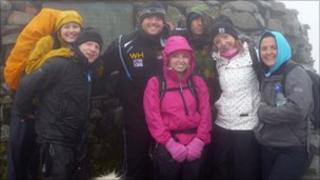 A group of friends from Tyneside will climb the UK's three highest mountains to raise money for a charity trip.
Dave Crandon, 33, his partner Hannah Mitchell, 27, and five of their friends will take part in the National Three Peaks Challenge this week.
The group will consecutively climb Snowdon in Wales, Scafell Pike in England and Ben Nevis in Scotland across two days.
Money raised will help them to go to Sri Lanka to volunteer in an orphanage.
Mr Crandon, from Jesmond in Newcastle, said: "I am really looking forward to the challenge of climbing the three highest mountains in Britain.
"I know it will be difficult but remembering that I am helping raise money to be able to help a brilliant charity will make keep me going."
The Rosie May Home was set up in 2004 by the family of Rose May Storrie, who was a friend of Miss Mitchell's father.
Mr Crandon said: "The family of Rose May Storrie were personal friends of Hannah's dad and lived in the same village in Grantham so it is very personal to us both."
'Wonderful experience'
Mr Crandon and Miss Mitchell will teach children English and sport for one year at the orphanage in Boossa, Sri Lanka.
The home provides a safe place for girls left orphaned by the 2004 Asian Tsunami and re-unites separated sisters who are then cared for by live-in house parents.
Mr Crandon said: "To be able to volunteer to teach orphans valuable skills that will help them in their life will be a wonderful experience.
"The trip will be very emotional but knowing that we will be helping the children will be so rewarding."