Tyne and Wear 'silly' cycle lanes highlighted on website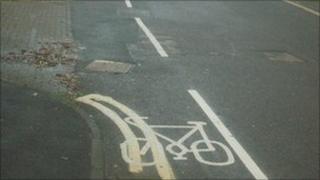 Campaigners fed up with cycle lanes coming to an abrupt end or being used as parking bays have set up a website featuring snaps of the worst examples.
The Newcastle Cycling Campaign has set up the Flickr site to try to get local councils to tackle the problem.
Photographs on the site include a cycle lane with a post erected in the middle.
Newcastle City Council said it investigates the misuse of lanes and Gateshead Council said it was "happy" to talk to concerned cyclists.
The website gallery also shows lanes with crumbling markings and potholes.
Claire Prospert of the Newcastle Cycling Campaign said: "The cycling we want to promote is everyday cycling - very short journeys to go to the shops or visit friends - that is how a lot of people on the continent get around."
'Happy to talk'
Dave Embleton, head of highway network and traffic management at Newcastle City Council, said: "The council is committed to developing our network of good quality cycle lanes throughout the city and when we discover that a cycle lane is being misused we will always investigate and take appropriate action.
"Our aim is to get more and more people cycling but we do have to balance the needs of cyclists and drivers when we are planning new or improved cycle routes."
He added that the council provides cycle training courses for 1,800 young people each year.
Nick Clennett, head of transport and highways at Gateshead Council, said: "We work closely with cyclists and cycling groups on the design and location of cycle lanes, and are always more than happy to talk to cyclists about our facilities."