Whitley Bay's St Mary's Lighthouse cottage goes on sale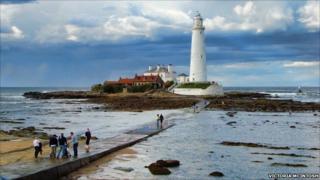 A cottage next to a lighthouse in Northumberland has gone on sale for the first time.
St Mary's Lighthouse and the cottage, near Whitley Bay, were built in the late 19th Century and have been owned by the same family ever since.
The cottage, which has limited access times because of the tide, has been put up for sale for £425,000.
Current owner, Stuart McLarty, 64, said the buyer would have to be a very "practical person".
With the same family owning the property for more than 100 years, the sale has been branded a once in a lifetime opportunity.
Water from the North Sea completely covers the road to and from St Mary's Island when the tide is in.
This is proving too much for Mr McLarty and his wife, who now want to move to the mainland.
Mr McLarty owns the cottage and said: "It's a very peaceful place, it can be very wild at times, it's extremes of both."
The cottage is steeped in history with 19th Century graffiti on the windowsills and gunshots in some doors.
It is also used as a signal for airline pilots flying towards Newcastle Airport to turn towards the mainland.
It will be open this weekend for viewings from potential bidders.