Woman admits Moat victim David Rathband 'bang bang' remark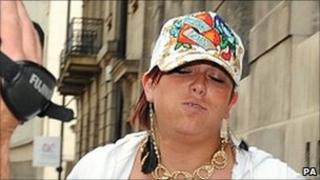 A woman has admitted saying "bang, bang" to the policeman blinded by killer gunman Raoul Moat.
Kelsey Donkin, 22, made the comment in March when Pc David Rathband arrived at Newcastle Crown Court for the trial of two men accused of helping Moat.
Donkin, of Goschen Street, Sunderland, had originally denied the public order offence, but changed her plea.
The hearing was told the incident had caused "great distress" to Mr Rathband. Donkin will be sentenced later.
She was arrested after making the comment and a gun gesture with two fingers behind the officer's back on 2 March.
She admitted using threatening words and behaviour to cause distress at Monday's hearing at Newcastle Magistrates' Court.
Chairman of the bench Brian O'Dwyer warned her that 12 weeks in custody was being considered as a sentence.
He said: "The aggravating features are there were a large number of people in the vicinity, and your actions had a serious impact on a victim who was extremely vulnerable following a shooting."
The unarmed Pc lost his sight after Moat shot him in the face twice, 24 hours after Moat murdered his ex-girlfriend's new lover and seriously injured her.
'Deeply hurt'
In a statement to the hearing, Mr Rathband said: "I felt sick at the thought of someone saying 'bang bang' behind my back.
"It is the first time I have encountered animosity or hostility towards me.
"This has caused me great distress. I'm deeply hurt by the actions of the female. I still feel sick to my stomach.
"I have had to sit in court concentrating on the events that left me blind, knowing this female thinks it's funny."
He added: "Hopefully she will realise one day her little joke had a devastating effect not only on me, but my wife and family."
Judith Curry, defending, said Donkin had received threats and was now a "figure of hate".
She said: "She feels absolutely dreadful about what has happened."
When the chairman of the bench asked if she had anything to say, Donkin said: "I'm really sorry."
She said she had since written a letter of apology to Mr Rathband.
Minutes before Pc Rathband was shot in the face, Moat had called Northumbria Police and said he intended to target other police officers.
Following the shootings, a manhunt started for Moat. The 37-year-old died after a six-hour stand-off with police in Rothbury, Northumberland, on 10 July 2010.
Karl Ness, 26, and Qhuram Awan, 23, were found guilty of helping Moat. Ness was given a 40-year minimum term, and Awan must serve at least 20 years.