'Sexist' social club in Sunderland changes rules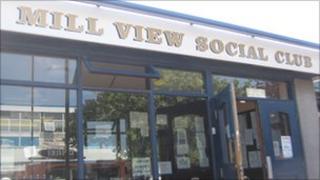 A rule that banned women from entering one of the bars inside Mill View Social Club, in Sunderland, has been scrapped.
"The bar, in my opinion, should be left to the men, because there are enough rooms in the club for the women and this is a men's bar, always been a men's bar and always should be a men's bar," says one member of Mill View Social Club in Sunderland.
He is referring to one of the men-only bars in the club which women have previously been banned from entering.
Until recently, the rules of the club have been on his side.
Club chairman Billy Angus said: "It's a lovely bar, but I would not like a lady to be in here because the lads want to talk about the shipyards, the pits and there is a bit of swearing that goes on.
"So, I'm a bit old fashioned that way, but now we've got to change the rules accordingly."
'High spirits'
Mr Angus said the ball was already in motion to change the rule when a woman was asked to leave the bar a few weeks ago.
He said: "We've had no complaint from that lady, the rules state if she felt discriminated against she should have come and seen myself or the secretary to put a complaint in."
The chairman has now changed the rule at the club so that female members can now use all of the bars.
Mr Angus explains: "It's 2011, we have to go forward, obviously the male members of the bar felt concerned, but the law states we have to go forward.
"We had women in yesterday in high spirits."
Maureen Taxado, a female member of the club, said: "Everybody is supposed to be so equal now.
"I thought 'why do they still have this rule not to go into the main bar?' but I just respected the other people's wishes."
Mick McGlashan, general secretary of the Club and Institute Union (CIU), said: "The club's union does not condone any sort of sexual discrimination.
"Any club ignoring the law would have to face the consequences if taken to court by a complainant."