Cable thefts cause Metro problems in Tyneside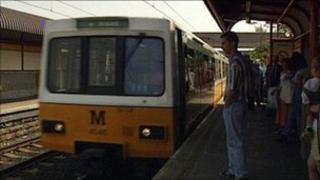 A reward has been offered for information leading to the prosecution of those responsible for stealing cable along Tyneside's Metro.
Crimestoppers and Network Rail have offered the £1,000 reward as cable thefts continue to be a problem.
Services between Whitley Bay and Wallsend in both directions were cancelled until further notice on Tuesday.
Nexus, who runs Metro, has apologised for the inconvenience.
During the disruption Go North East are accepting Metro tickets on bus services 1, 2, 85 and 86 between Whitley Bay and Wallsend.
Nexus has said it is working with Northumbria Police on the issue to identify hotspots for cable theft and increase patrols in those areas.
Ken Mackay from Nexus, said: "In the most recent incidents we have actually been able to repair damage before it caused significant disruption to our passengers, but sadly in some cases this is not possible and I am sorry for the inconvenience and can promise passengers we are doing all we can to combat this problem."
For the latest travel information, updates are every 15 minutes on BBC Newcastle on 95.4fm.