Parents of Guardsman Michael Sweeney given portrait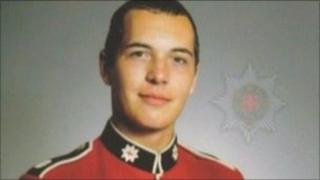 The parents of a soldier who was killed in Afghanistan have been honoured for their charity work with a portrait of their son.
Coldstream Guardsman Michael Sweeney, 19, from Blyth, Northumberland, was killed in Helmand Province last year.
Kim and Michael Sweeney have spent 15 months fundraising for The Soldiers' Charity and have raised £24,000 so far.
The couple were presented with the portrait by Viscount Lord Ridley at a ceremony in St Mary's Church Hall.
As well as the portrait, certificates were handed out to nine of the biggest supporters of the fundraising appeal.
The money was raised by holding events including a tattoo-a-thon which saw 67 people getting sponsored tattoos of a dove in a star, raising £4,000.
Mrs Sweeney said: "When we saw the portrait there were no words, it was just so beautiful. It's so real and life-like. The artist is phenomenal.
"The family came to have a look, they were all speechless and in tears, it was beautiful."