Newcastle student designs Mini Byker adjustable bike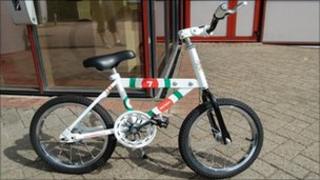 A design graduate from Newcastle has designed a new type of bicycle for children.
James Hunter, 23, from Heaton, said the Mini Byker would help parents who cannot afford to buy multiple bikes for children as they grow up.
According to Mr Hunter the bike is suitable for ages three to eight and has an adjustable frame so that its size can be altered with a spanner.
The bike will go on show at the New Designers exhibition in London in July.
Mr Hunter, who received a 2:1 in his Design for Industry degree at Northumbria University's School of Design, said the idea came from ideas about how to save parents money and how to be more environmentally friendly.
The bike, which has a name that gives a nod to neighbouring area Byker, adjusts in length and height, and the pedals can also be removed.
Mr Hunter said it was easier for a child to learn to ride a bike without pedals, something easily achieved with his design.
"You remove the pedals and they are learning how to balance and push."
The bike will go on show at the New Designers exhibition in Islington, north London, where Mr Hunter hopes to attract investment in the Mini Byker.
He said: "I haven't done any testing, but I predicted it is for children aged three to eight or nine, but obviously children vary in height so it could be older or younger.
"The handlebars are adjustable as well, so it makes it more comfortable."