Stanhope Ford future determined by public inquiry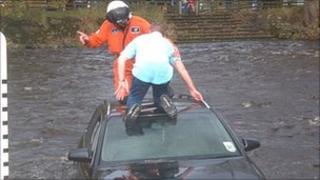 A public inquiry will be held to determine whether a County Durham river crossing at the centre of safety fears should be permanently closed.
Traffic was banned from using Stanhope Ford in 2008, after an increase in the number of rescues from vehicles which had become stranded or swept away.
Durham County Council wants the crossing to remain closed, but there have been a number of objections.
Its future will now be determined by a public inquiry.
Over the past 10 years, 23 rescues operations have been carried out at the ford.
Proposals to keep the crossing closed have been supported by police, fire and ambulance services as well as the Environment Agency.
However, many local people view it as a convenient shortcut, and more than 21 objections to the plan have been lodged.
Councillors have now given the go-ahead to a public inquiry so a final decision can be made.