Teachers' strike: When the teachers are parents too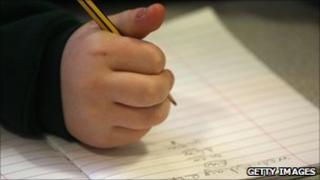 Thursday's public sector workers' strike has left many working parents looking for alternative childcare.
The word "childcare", and the impression it can give, have angered many teachers who stress their job is to teach, not mind, children.
Jane Smith, who teaches at a school on Tyneside, said she thought Education Secretary Michael Gove's suggestion that non-working parents help out to keep schools open was wrong.
She said: "It reinforces the idea that schools are just there to provide childcare. They're not - they're there to educate children and keep them safe.
"Looking after a large group of children is not as easy as it looks."
Although Mrs Smith said she agreed with the strikers' concerns she is a member of the NASUWT which is not taking part in the strike action.
Her partner, who is also a teacher, will also be at work during the strike.
They have a child, however, whose teacher will be on strike and, therefore, find themselves in exactly the same position as many working parents: they will have to pay for extra childcare.
Mrs Smith said: "If I used the breakfast and after-school clubs, I'd be stuck.
"I don't have any family locally I could ask and the friends I would feel comfortable asking to help out are in the same position as me."
She said she was lucky enough to have access to a childminder but thought her school would have allowed her to take a day off.
"The people in senior positions at school are parents, too, and generally try to be sympathetic when it comes to childcare emergencies.
"I don't think there would have been a problem asking for the day off, but I might well have had to take unpaid leave."
There is still the question of what would happen to her class if she did.
Mr Gove has suggested schools make every effort to stay open, recruiting parents to help if necessary.
This worries Mrs Smith.
She said: "I had to be CRB-checked to do my job and it took weeks for it to come through.
"I'd expect anyone who is left in sole charge of my child when they're at school to have the same checks, and I just don't see how that could be done in the time available."
Names have been changed.