Raoul Moat police chaplain gave officers 'place to talk'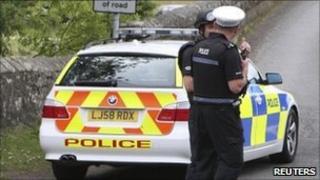 The Reverend Peter McConnell, senior force chaplain for Northumbria Police, sees himself as a "safe place to talk".
A year ago, on 3 July, there were plenty who needed that when Raoul Moat, newly released from prison, shot his first victim and triggered a manhunt that lasted a week.
As police from around the country were drafted in to bolster the force's ranks it was Mr McConnell's job to make sure they all had somewhere to offload emotion and stress.
He remembers the urgency.
"The adrenaline was pumping and it was pumping all week," he said.
Concerned families
"They [the officers] knew they had a job. Yes, they were vulnerable, but they were being very, very professional."
Their families, too, concerned him. Not trained for such situations and not focused on the job, they could only worry and wait.
Mr McConnell said: "It was the families who were seeing their loved ones leaving the house in the morning, wondering whether they're going to see them later in the day."
Moat, angry and bearing a grudge, had shot dead his former girlfriend's new boyfriend, Chris Brown, thinking he was a policeman; shot and wounded his ex-partner Samantha Stobbart and, a few hours later, shot and blinded traffic patrol officer Pc David Rathband.
A week later, after a six-hour stand off in the normally quiet village of Rothbury in Northumberland, Moat shot himself.
'Adrenaline push'
When the news came in Mr McConnell and his field chaplains were ready to give people "the opportunity to say how they felt."
Mr McConnell said: "Like any other police operation, there's an adrenaline push and, at the end of that, that adrenaline needs to be released and there is an effect.
"Afterwards people started to realise just what danger they had been in and how vulnerable they had been."
Conversations about events a year ago continue but are more "light hearted", said Mr McConnell, and a certain element of "very dark" police humour dilutes the more worrying memories.
On the night Moat died, a warm summer evening, officers returning to headquarters did not want to talk, he said.
They simply wanted a shower and to apply cream to their midge bites.
Those who had spent several hours staring into the barrel of Moat's gun were given support and counselling if they wanted it.
"Lots of people who were connected in other ways would just want to talk about...where people were or how they were involved.
"I don't think people treat me so much as a clergyman but as a safe place to talk.
"That's why I'm a chaplain.
"I'm a safe place where people can know they can say anything they want and it isn't going to go anywhere else."