Remains of fall death man Christopher Rochester reburied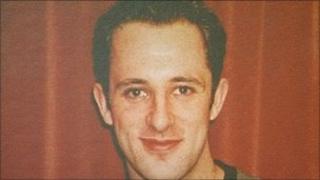 The family of a County Durham man, whose remains were exhumed 11 years after he died on the Greek island of Rhodes, have reburied him.
Christopher Rochester, 24, died in a fall from a balcony, but he was missing a kidney when his body was flown home. An organ sent later failed a DNA test.
Greek officials demanded the exhumation on Monday so fresh DNA samples could be taken to settle the kidney mix-up row.
Mr Rochester was reburied at a private ceremony in Chester-le-Street.
A Greek doctor was convicted in 2008 of neglecting Mr Rochester during his treatment in hospital.
His mother and stepfather, Pam and George Cummings, have campaigned for many years for a criminal investigation over the kidney mix-up.
DNA samples taken from Mr Rochester's remains are being sent to a laboratory in Belgium for independent analysis.