Community service for Raoul Moat victim 'bang' jibe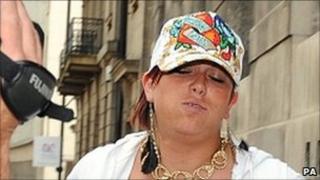 A woman who said "bang, bang" to the policeman blinded by killer gunman Raoul Moat has been given a 12-month supervision order.
Kelsey Donkin, 22, made the comment in March when Pc David Rathband arrived at Newcastle Crown Court for the trial of two men accused of helping Moat.
Donkin, of Goschen Street, Sunderland, had earlier admitted using threatening words and behaviour to cause distress.
The judge at Newcastle Crown Court also told Donkin to pay costs of £105.
The mother-of-three was arrested after making the comment and a gun gesture with two fingers behind the officer's back on 2 March.
District Judge Stephen Earl said: "To make fun of such an incident, frankly, is a mark of immaturity and pathetic, juvenile behaviour."
A hearing on Monday heard that the incident had caused "great distress" to Mr Rathband.
'Very sorry'
The unarmed Pc lost his sight after Moat shot him in the face twice, 24 hours after Moat murdered his ex-girlfriend's new lover and seriously injured her.
In a statement read out at Monday's hearing, Mr Rathband said he was "deeply hurt" and "felt sick to my stomach".
The court was also told that Donkin, who had received threats and was now a "figure of hate", felt "absolutely dreadful" about what had happened.
Passing sentence, District Judge Earl said that while she did a "very foolish thing on the day" she was not a "dangerous criminal".
"I am satisfied you do demonstrate remorse, I am satisfied that custody is not the answer," he said.
"However, your thought processes do need some work. It is for that reason this is a case which is serious enough to warrant the intervention of the probation service."
Donkin said afterwards: "I'm very, very sorry. I've written him a letter and I've apologised."
Following the shootings, a manhunt started for Moat. The 37-year-old died after a six-hour stand-off with police in Rothbury, Northumberland, on 10 July 2010.