Tyne and Wear strikes: Thousands join Newcastle march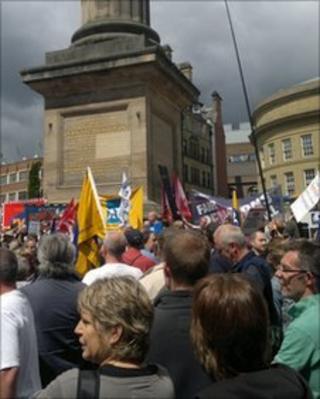 More than 1,200 civil servants and teachers have taken part in a march in the centre of Newcastle amid strikes protesting at plans to change pensions.
The public service workers took part in the protest from the Centre for Life to Grey's Monument at noon to campaign against the government's plans.
Nearly half of schools across Tyne and Wear were shut or partially shut.
Action was taken by three teaching unions and the Public and Commercial Services (PCS) union.
Of the 912 schools in Tyne and Wear, more than 560 are shut.
That includes 132 out of 285 in Durham; 97 out of 114 in Sunderland; 78 out of 103 in Newcastle and in Northumberland 86 out of 180.
The government condemned the strikes as counterproductive.
Unions claim proposed changes to public sector pensions will mean they will have to work longer, pay more and get less when they retire.
The government said the stoppages would result in significant disruption to families' lives.
Retired former Unite member Tom Gardiner, of Newcastle, was looking after his 11-year-old granddaughter Esme, whose school was closed for the day.
He said: "This is her history lesson - she is seeing history in the making."
Councils in the North East said they believed about 25,000 workers in the region were on strike.
Elaine Kay, northern region secretary of the National Union of Teachers, said: "The government needs to be aware that more and more people are becoming extremely angry about this attack on pensions and will take action to defend them.
"Teachers are not burying their heads in the sand.
"We have already agreed to possible further changes, at a cost to ourselves, but we cannot negotiate an agreement when the government is failing to bring forward any evidence to support its case."