Steve Cram announces Kielder 10k run in Northumberland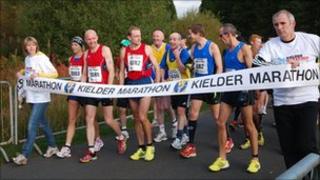 Former Olympic athlete Steve Cram has announced plans to hold a 10km (6.2 miles) run in Northumberland.
The race will coincide with the Kielder Marathon which was held for the first time in 2010.
The Kielder 10k will take place the day before this year's marathon on Saturday, 8 October.
Participants will run on an almost entirely off-road course around Kielder Water in Northumberland, the largest man-made lake in Europe.
Mr Cram said: "It'll take place around the Bull Crag Peninsula, which is a very impressive part of Kielder.
"For running, in my view, [Kielder] is one of the best places in the country, if not the world, to run.
"We billed last year's event as 'Britain's most beautiful marathon' and I think everyone who came agreed."