Diamonds stolen in Gosforth High Street armed robbery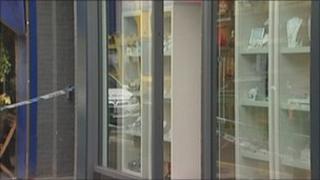 Two men have reportedly made off with diamonds after an armed robbery at a Newcastle jewellers.
Two male shop assistants were sprayed in the face with ammonia during the attack at David Hall jewellers in Gosforth High Street at 0930 BST.
The two workers were treated in hospital as a precaution. Two offenders escaped along a neighbouring alleyway.
Northumbria Police have not confirmed the quantity or value of the diamonds and are still investigating.
'Extensive inquiries'
Staff said two men had come in and smashed a glass door to get access to the diamonds and had then thrown ammonia into the face of some of their colleagues which caused a choking effect.
The two men then left the shop and escaped up an alley to a car park at the back of the shop.
Piercarlo Beriu witnessed the robbery and said: "The guy has gone inside the jewellery shop with a hammer, he's smashed one of the windows and taken all the diamonds."
Det Insp Don Gibson, of Northumbria Police, said: "We can't confirm a weapon was used in the robbery, and can't confirm what was stolen yet.
"We are making extensive inquiries into the incident in an effort to trace the two men responsible, and would ask anyone with information to come forward."