Sunderland gas blast rescue woman Mary Pells Black dies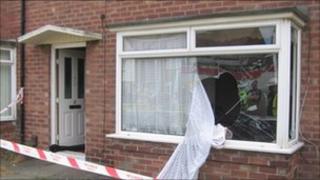 An 86-year-old woman who was rescued from her Sunderland home by a neighbour after a suspected gas blast has died.
Fire crews were called to Craigshaw Square, at Hylton Castle, Sunderland, just after 0900 BST on Friday.
Mary Pells Black was carried to safety by her neighbour David Thompson and was then taken to hospital where she died from injuries sustained in the blast.
Her family said they were devastated and thanked everyone who had helped, including Mr Thompson for his bravery.
'Selfless bravery'
Mr Thompson broke a window to gain access into the house where he then picked Mrs Black up and carried her to his home next door.
He put water on her burns until firefighters and paramedics arrived.
Mrs Black's family thanked emergency services and neighbours, including Mr Thompson for his "selfless act of bravery" in pulling Mrs Black from the house despite the grave risks.
Steve Anderson, from Tyne and Wear Fire and Rescue Service, described Mr Thompson's actions as "prompt and selfless".
Northumbria Police is investigating the exact cause of the fire.