Northern Pride parade to be lead by Newcastle Panthers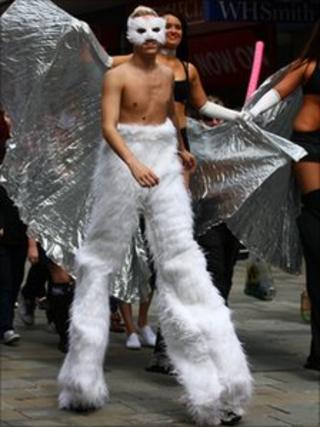 They started as the Pink Panthers, with 20 players, a physiotherapist and ambitions to join the national gay football league.
Now the north-east of England's first gay football team will be leading the region's Northern Pride parade through the streets of Newcastle on 16 July.
In May the Newcastle Panthers, as they are now known, won the Gay Football Supporters Network (GFSN) league cup final.
Northern Pride will double as their victory parade - although a more flamboyant one than many amateur teams might hope for.
The Panthers' coach and manager, John Harper, said: "It's a massive event for us.
"People are proud to be who they are and I think it does change people's perceptions of gay, lesbian, bisexual people."
He will not be surprised to hear a few hecklers. There are always one or two, he said, but they are just as likely to be making a point about the colour of someone's skin or their gender.
Organisers say Northern Pride is the region's biggest gay pride event, last year attracting 16,000 members of the Lesbian, Gay, Bisexual and Transgender (LGBT) community.
'Proud leading Pride'
The Newcastle Panthers will be leading the Pride Parade from Newcastle Civic Centre to Leazes Park.
Their defender, Rob Wood, said: "I'm really proud that we've been asked to lead the Pride march.
"Anyone with pre-conceptions that gay guys can't play football should come along to one of our training sessions or watch one of our matches."
Just three years old, the Newcastle Panthers are now GFSN league champions - greater success than any of the region's premiership teams have seen in their respective leagues recently.
But John says recruiting for a gay football team has not been easy: "I think a lot of that is down to the stigma attached to being a gay footballer.
"I used to play at quite a high level and making that step from being a player from a straight team, as such, to taking part in and representing a gay football team was a big step for me.
"I was really nervous at the time."
But he also thinks the team is a safe place for those nervous of playing straight players to meet like minded people and play football in a non-judgmental atmosphere.
Although he has been accepted at home and work, he would be less 'comfortable' coming out to his straight footballing friends, he says.
"The comments that go on in the changing rooms, there's always the banter, certain comments."