Hebburn hero befriended by Lord Mountbatten reaches 90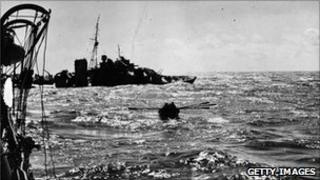 HMS Kelly was built on the Tyne at the Hawthorn Leslie yard in Hebburn in the days before the start of World War II.
Ralph Scorer was born in Annfield Plain in County Durham 18 years earlier and joined the destroyer as she sailed to war.
This week, Ralph celebrates his 90th birthday and his memories of those days are sparklingly fresh.
He said: "I was seasick from the moment we left port."
HMS Kelly was quickly in action and in May 1940, with her captain Lord Louis Mountbatten, she joined operations that formed part of the Battle of Norway.
During the night of 9 May she was torpedoed by the German E-Boat S31 off the coast of Holland.
Ralph said: "Nobody saw it because it was dark. Somebody shouted 'torpedo'.
"And, of course, it was all over. Chaos."
A huge hole had been blown in the Kelly's side and she began listing. The crew was taken off and Mountbatten asked for volunteers to make up a skeleton crew to man the guns.
Ralph volunteered for an anti-aircraft gun winning the lifelong affection of his captain.
He said: "Mounbatten was very fond of young Scorer. He couldn't understand why, with the seasickness I was suffering, I had volunteered to go back."
HMS Kelly, held together by little more than the rivets on her upper deck, was taken in tow by HMS Bulldog.
Post traumatic stress
It took 92 hours through rough seas to get back to Hebburn where cheering crowds lined the Tyne for her homecoming.
She spent months being repaired before sailing to the Mediterranean with Mountbatten again at the helm.
But Ralph was not on board.
He had complained of feeling ill after his return home and one night he collapsed.
He said: "They took me to a military hospital and the King's own physician came to talk to me. He told me not to worry about anything, and I'd be alright."
In those days they called it 'nerves'. Today it is better understood as post-traumatic stress disorder.
Ralph never went back to war and never rejoined HMS Kelly. It could have saved his life.
On 23 May, 1941, the destroyer was bombed and sunk during the evacuation of Crete. She was later immortalised in the 1942 film "In Which We Serve".
'Scored a bullseye'
After the war, Lord Mountbatten wrote to Ralph several times, affectionately dubbing him "Scrounger Scorer" for his ability to lay his hands on things.
It was Ralph who was able to present Lord Mountbatten with two relics of the May 1940 action that delighted his former skipper.
After the ceremony to bury two of HMS Kelly's crew at sea her original ensign was lowered and reverentially folded.
Ralph took charge of it. It was believed lost until Ralph handed it over when the Earl appeared on the TV programme This Is Your Life in 1977.
Shortly after the Kelly was rammed Ralph found a ship's wheel wedged into her motorboat, discovering years later that it belonged, not to the Kelly but to the German E-Boat.
Mountbatten wrote: "This is the second time you have scored a bullseye on me with a real surprise."
Lord Mountbatten's favourite great-nephew did not forget one of the Earl's favourite comrades - at Ralph's house there was a box marked "Highgrove".
It had come from the residence of the Prince of Wales and in it was a bottle of champagne and a letter wishing Ralph well.