Tyneside seafarers celebrate Sea Sunday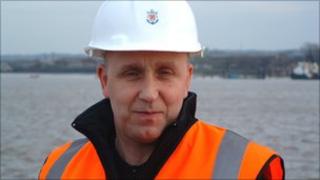 Seafaring communities in the north-east of England will celebrate Sea Sunday on 10 July.
It is a day to remember and honour all those people in the world who work on the sea.
Paul Atkinson is a lay chaplain with a national seafarers' charity, the Apostleship of the Sea, and spends his days visiting ships coming into the Ports of Tyne and Blyth.
He said: "90% of all the goods we use come by sea but the men who work on the ships are largely invisible.
"Yet many of them are away from their homes and families for a year or more, usually working seven days a week throughout.
"We go on board ships and welcome them and help them in any way we can.
"We give them lifts so that they can do some shopping. We provide phone cards so that they can make cheap international calls.
"We buy food, clothes and deodorant for them and we arrange the international transfer of money if they need to send funds to their families.
"Sometimes they just need someone to talk to or pray with."
'Fantastic relationship'
The charity started back in 1922 in Glasgow when a ship-visiting group was set up to help crews in any way they could.
That group eventually grew into today's Apostleship of the Sea known internationally as Stella Maris.
They're a Christian charity, funded by the Roman Catholic church, but they help people of every faith.
Paul said some of the people he's grown particularly close to are Muslims working on two car carriers.
He said: "I've got about ten regular ships and two of them are car carriers, the City of Lutece and the City of Nordic, and the crew are all Muslims from Lebanon and Syria.
"I have a fantastic relationship with them, they call me father or brother and they often give me donations for the charity."
The Apostleship of the Sea is run entirely on donations and like many similar organisations is struggling to find the funds to carry on its work.
Paul, and others like him, are determined to continue a long tradition on the Tyne of offering a welcoming compassionate hand to seafarers from all corners of the globe.