Trapped boys rescued from Whitley Bay cliffs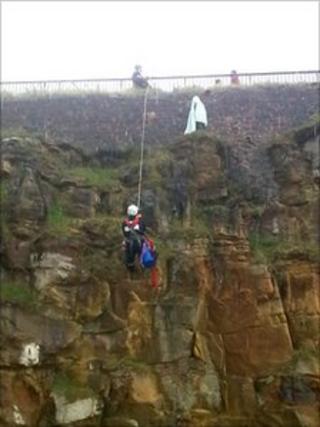 A lifeguard had to be airlifted to safety when he became stranded while trying to rescue two boys trapped on cliffs on the Tyneside coast.
The brothers, aged 11 and nine, had become trapped at Whitley Bay on Saturday afternoon.
An RNLI lifeguard who tried to reach them himself became stranded.
The boys were eventually reached by a rescuer lowered down the cliff by rope. The lifeguard was winched to safety by a helicopter crew from RAF Boulmer.
A Coastguard spokesman warned about the dangers of venturing onto cliffs.
He said: "These young boys have been lucky.
"The weather conditions, in particular the gusting winds, made this a difficult and dangerous scenario for both the boys and the rescue personnel.
"We understand that youngsters have a sense of adventure, but fences around cliff edges are there for a reason."
A spokesman for Tynemouth Volunteer Life Brigade said: "The two brothers had become stuck on a ledge and were in danger of falling 30ft to the promenade below.
"So clear was the danger that an RNLI lifeguard had attempted to rescue the boys himself, but in doing so had reached a position from which recovery was difficult and the safest way to recover the lifeguard was by rescue.
"On evaluating the situation it was decided that a rope rescue would be the safest and quickest way to rescue the two boys.
"An RAF rescue helicopter then lowered a winchman to the RNLI lifeguard who was then returned to his base."