Parks in Newcastle Durham and Berwick win lottery cash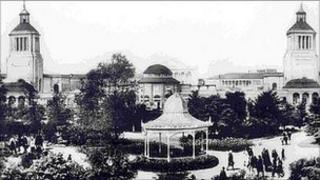 Parks in Tyneside, Northumberland and County Durham are to share Heritage Lottery Fund grants of almost £2.5m.
The largest award of £2.4m will go towards preserving historic features of Newcastle's Exhibition Park, including the bandstand and croquet pavilion.
Durham's Wharton Park and Castle Vale and Coronation parks in Berwick-upon-Tweed will share a further £92,700.
Over the last 17 years, parks in the north-east of England have received lottery grants worth £51.5m.
Head of the Heritage Lottery Fund in the North East, Ivor Crowther, said: "We are very lucky in the North East to have so many green spaces in our towns and cities.
"Over the last 17 years, every local authority in the North East has had a park in their area revitalised.
"We are dedicated to continuing this support and we hope that the latest investment will make a real difference."
Newcastle's Exhibition Park was originally created in 1870 and has hosted a range of events including the Royal Jubilee exhibition in 1887.
Wharton Park was opened in 1858. Lottery cash will go towards restoring some of its original features, including an amphitheatre dating back to 1896.
Castle Vale and Coronation parks will see improvements to garden areas.