Roseberry Grange golf course members get club keys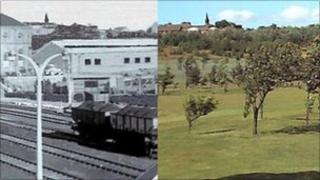 The determined members of Roseberry Grange Golf Club in County Durham refused to give up their course.
Loss-making and under-used, it had been earmarked for closure by a council looking to save money.
But now, five months later, Durham County Council has officially handed over the keys to the club's former committee.
For the next 35 years it is theirs.
Fearing the loss of their club, they had put together a plan to take it over from the council and were successful.
Ray McDermott, the club's secretary since it opened in May 1987, described it as an "absolute massive step".
Peppercorn rent
The possibility of closure was a blow to him. "I was extremely upset, having been a member of the golf club from day one," he said. "I was shocked and amazed."
He said golfing was "in the blood" of many members - particularly the older ones who had been there for many years and played all week.
Mr McDermott said he was also proud of the club's work with young players, who are encouraged to play by reduced fees.
He said: "Once it's in the blood it stays in the blood."
Early in 2011, Durham County Council, facing budget cuts, announced it needed to save £125m over four years.
The club was one of its possible targets and a consultation exercise on closure began.
Mr McDermott said they decided to fight, rather than give up, grumble and move on.
They now have a 35-year lease and will pay only a peppercorn rent for the first five.
Any profits they make will be ploughed back into the club.
'Hard work starts'
Mr McDermott is confident there will be profits, although the club previously made a loss.
It is the difference between being a member of a club and owning it, he said.
He said a lot of the maintenance work was being done for free across the club and its grounds, including decorating, joinery, plumbing and grass cutting.
"If it's in the blood and they realise now it's theirs, it's their course, it's their clubhouse, it's not difficult to get them motivated to go and do work on the course or in the clubhouse," Mr McDermott said.
"Now all the hard works starts, mind. It was lovely just to think that this now is ours."
Councillor Bob Young, cabinet member for leisure, said: "Difficult times mean difficult decisions, but this is a happy ending that I hope will see many more golfers in the swing for years to come."