Lord Coe receives an honorary doctorate in Sunderland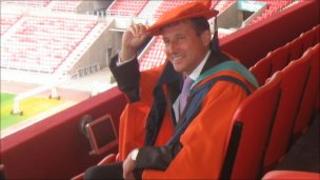 Lord Coe has received an honorary doctorate from the University of Sunderland for his outstanding contribution to the world of athletics.
Sebastian Coe was the driving force behind bringing the 2012 Olympics to London.
While in Sunderland he addressed fears that it was the only city in the North East not to have the Olympic torch staying overnight.
He said it would have a very prominent role to play in Sunderland.
It was announced in May that the Olympic torch would have an overnight stay in Alnwick, Durham and Newcastle but not Sunderland.
Lord Coe continued: "I know our teams are talking about a very serious send-off the following morning as it continues its journey through the region."
Former Olympic runner Steve Cram, who presented Lord Coe with his scroll and is a personal friend of Lord Coe, said there was still hope for the Olympic torch to visit Wearside.
He said: "It's the overnight stays everybody has got all uppity about.
"I think there's an opportunity for Sunderland to have a major day with the Olympic torch and that's something we need to sit down and talk about."
Sebastian Coe won two gold and two silver medals in the 1980 and 1984 Olympics in 1,500m and 800m respectively.
He broke three world records in 41 days in 1979 and 12 records in total during his career.
He was appointed London's 2012 bid leader in May 2004 and it was announced the bid was successful in June 2005.