Last surviving Northumberland pit pony dies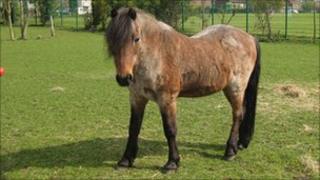 The last surviving pit pony from Ellington Colliery in Northumberland has died at the age of 40, marking the end of an era.
Tony the pony was given to the Newcastle Dog and Cat Shelter in 1995.
He arrived in Newcastle with his companion and fellow pit pony Pike who died in 2005.
"It's the end of an era, he was a very important part of our North East heritage," said Leyla Rutter from the shelter.
'Horrific life'
Thousands of ponies were used in mines throughout the country to help move heavy batches of coal.
Ms Rutter said: "We believe it was a pretty horrific life from talking to people who spent many long hours working with them.
"They were even stabled underground, so they didn't see daylight.
"They were only allowed out for a two-week summer holiday when the mine closed and they were allowed to run around the field before going back underground again.
"They made very good companions [for the miners] and they formed close bonds with them and even shared their lunch with them."
Even at the age of 40 Tony had a lust for life.
Ms Rutter added: "Even up until his last days, you would see him get a wind in his tail and gallop up and down the field and you would never believe he'd had a hard start in his life."