Away ticket limit on Magpies fans after pitch invasions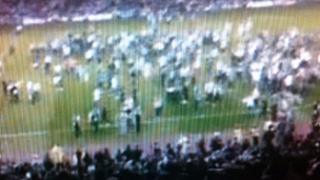 Newcastle United is to restrict the sale of away match tickets after its pre-season friendly against Darlington was marred by pitch invasions.
The Darlington pitch was invaded twice after Newcastle went 2-0 up on 15 July. Three people have been charged.
The club said tickets would be limited to season ticket holders and members.
Some fans have accused the club of over-reacting. Season tickets range in price from £100 to £865 at the premium end.
In a statement, the club said: "In order to combat any possible trouble at future away fixtures, a new policy will be implemented by the club which will see ticket sales restricted to season ticket holders and members only.
"As such the buyer will be held accountable for any trouble associated with the purchase/use of a ticket."
'Backward step'
It said anyone identified as being involved in criminal or anti-social behaviour could be banned from matches.
Mark Jensen, editor of independent fanzine The Mag, said it was a "sledgehammer to crack a nut".
He said: "It's a backward step. It's well documented how many Newcastle fans travel to away games, as is the good behaviour of the vast majority at those games.
"There was a problem at Darlington, but why disadvantage the majority just because a couple of people were arrested?
"I fail to see how, if all those people at Darlington had been season ticket holders and/or members, that would guarantee they would behave."
A Newcastle man, 21, a Gateshead man, 22, and a 17-year-old from Darlington, have been charged with entering a playing field during a designated football match.
The 21-year-old is also charged with disorder and the 22-year-old with a public order offence.