Sunderland's Nissan creates 200 new jobs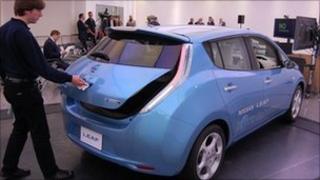 Car firm Nissan is creating 200 new jobs at its Sunderland plant, it has announced.
The company has launched a recruitment drive for engineers and maintenance staff because it needs extra workers to build batteries for its electric cars.
It also needs more staff to produce its new models, the electric Leaf car and the new-look Qashqai.
Nissan spokesman Kevin Fitzpatrick said the firm was dealing with "record levels of production."
Mr Fitzpatrick, who is Nissan's vice president for manufacturing in the UK, said: "Nissan is actively recruiting for new engineers and maintenance technicians to join our highly-skilled workforce at our Sunderland Plant.
"These new recruits will play a key role not only in maintaining our record production levels, but in making sure that our battery plant and future new models are introduced successfully."